If you want to build and grow a sustainable business, then you need to create a business strategy; no ifs, or buts. Without one, you may as well be running around blindfolded. Why? Because it is your bespoke roadmap taking you in the right direction for your business goals. It will help you design a business that is agile and scalable, all while giving you the tools to fulfil your mission and values.

What is a business strategy? A business strategy is a way of outlining a business's aims for the future, alongside the steps that will be taken to make those goals a reality. Essentially, it's the who, what, why, and how of growing a business.

Of course, building a clear business plan isn't a five minute job. It takes time – time that is worth really sinking your teeth into. Ultimately, the time and effort you put in now will pay dividends for years to come, saving you time, money and, quite frankly, getting rid of unneeded stress so that you can make everyday business decisions with clarity and ease.

To help you out, I've mapped out the 10 steps to create a business strategy that I take all of my clients through, whether they go through my Breakthrough programme (on demand coming soon!), or work with me 1:1.

Let's begin…
How do you create a business strategy?
A business strategy is necessary in order to plot out your long-term goals. It takes a close look at all of your unique opportunities as a business (as well as any risks) and lays the groundwork for your future growth. But, how do you actually create a business strategy?
My favourite way to shape a strategy is called future back planning, or clean slate planning. This is a method based on forgetting what you know today, and looking for quiet trends that are subtly forming in the background; trends that could, one day, become a 'thing' of the future. This could be future environmental and economical shifts, or future consumer behaviour shifts. Once you have a view of what the industry might look like in 1, 3, or 5 years, you can start to craft a plan around it.
Take a copywriter, for example. If they're adopting a future back planning strategy, they may identify that their ideal clients are starting to shift away from social media as their main source of clients, instead opting to build sustainable businesses across multiple channels. During this research and planning phase, they may also see that people are buying experiences and projects rather than services or products. And with an influx of new businesses expected now that the furlough scheme has come to an end, it's going to be tough for their ideal clients to stand out from the crowd. This means they will be looking for a strategic partner to elevate their business above the noise.

So, they look at what services they can offer. They pinpoint what skills they will need to level-up and any potential collaborations that may help them on these new requirements. It's here that they may realise that they also need to upgrade a system, update their processes, hire a team member and change their marketing strategy.

And hey presto – all of that forms a strategy!
How to write a business strategy
Step 1: Write a business summary
Your business summary does what it says on the tin; it's a clear, to the point description of your business, your service and/or your products. It's a snapshot – one that will not only keep you on track, but can be used as a means of giving potential investors an overview of your business.

There are a few key things to include in your business summary, including:
What is your business purpose – what do you deliver, either through your product or service?
What roles do you have or envision needing in the future?
How will you outsource or resource these roles?
Will you have business premises?
Will you work full or part-time?
Still not quite sure what that would look like? Here's an example I pulled together:

The Brand Business is a brand strategy and design agency specialising in brands for creative businesses.

Services – 1:1
Brand strategy + brand design package
Brand refresh

Products – Academy

In year 1 I will establish the business, services and our position as an expert. In year 2 I will grow the team to include 1 designer and 1 part time business manager. In year 3 we will scale the academy and our turnover. We'll be based in a home office for year 1, and a small serviced office from year 2.

See? Nothing fancy. No all singing, all dancing document. Just the key information that you need to summarise your unique business in a way that effectively outlines its core components.
Step 2: Conduct Strategic Market research
Next up, you need to get your hands dirty with some strategic market research. This means exploring any of the opportunities you've identified and your brilliant idea for a product or service, backed by your competitor pricing structures, gaps in the market, trends you've observed and any lessons learned from your previous reporting period.

It sounds like a lot – and really, it is. But it's integral to take the time with this stage if you want to build a business that can survive in a competitive market.

You want to look at competitors at a similar level to you – ones that you feel are on a similar trajectory, and could potentially entice a customer away from your offering. You can uncover these competitors in several ways, including:
Looking at the companies your ideal clients are following and engaging with
Searching for keywords and seeing which companies come up
Through networking and getting to know your industry
A good old social media stalk
Once you come up with your list, you can run a SWOT analysis on them. What you discover could produce something like this:

Competitors
Brand Design Agency – They offer 1:1 services to a range of industries including creatives. They operate with a true agency model with a team of 5. Their pricing starts from £1500, and runs to £18,000 depending on size of project.
The Brand Consultant – A one person business offering 1:1 services to creatives. Their pricing starts from £899 and runs to £2699 depending on size of project.

The UK creative industry is worth around £11.7bn per year, although this will have taken a hit due to the pandemic. I believe this creates an opportunity. Many creatives will become unemployed and start their own businesses. They will need support during their start-up and I believe that I can capture their custom through the academy and well positioned 1:1 services.

Again, what you write doesn't have to cover endless pages. Be succinct. Only write down the information that you really need to know; the parts that are going to help you make adjustments and plans for your own business.
Step 3: Identify Your Drivers
What drives you, as a business owner? Why do you do what you do? What are your values? Your mission? Your purpose?

These are all important questions that you need to ask yourself if you want to build an authentic business that is true to your aspirations and needs.

A quote that I always come back to when I'm thinking about my business drivers is:
"Purpose keeps you focused on why you exist, vision aligns you with your goal , and mission empowers how you will accomplish it. Done well, it will inspire and motivate you every day, and just might inspire your audience."

– Brian Sooy
It sums it up neatly, right? Because these things really are so powerful. A purpose driven framework (what, why and how) leads to impact. And our impact shares our purpose, vision, mission, values and culture with everyone we come into contact with; our suppliers, outsourced support, employees, clients and customers.

Let's take a look at that brand design consultancy case study example again:

OUR PURPOSE: Our purpose is to bring great branding to businesses who might not think they deserve it.
OUR VISION: We'll bring exceptional brand identities to creative business owners, giving them the credibility and confidence to push boundaries.
OUR MISSION: We help creative business owners confidently and proudly share their business with the world, connecting with their ideal clients through a beautiful, intentional brand strategy and visual identity.

I like to keep my drivers visible on a daily basis – they are propped up with pride of place on my desk. Eventually, they become so ingrained into you that everything you do and say will be naturally guided by them.
Step 4: List your products and services
When it comes to listing out your products and services, there are three main methods:
Future back
Value proposition canvas
Gap analysis
They're all valid and worthy of consideration; you can use them for different things at different times, so it really does depend on your circumstances and needs.
Future back planning
This style of planning is very strategic; it involves long term planning, opens your eyes to possibilities and removes the constraints of here and now. It requires you to forget what exists today, and look forward so that you can understand what will be needed tomorrow. It removes 'the box', and helps you to think freely in terms of your clients, industry, the economy and environmental changes.

Going 1, 3 or 5 years into the future, ask yourself these questions;
What faint trends are there today that may become the norm at that time?
What economical or environmental changes may occur between now and then?
What shifts in consumer behaviour are likely to occur between now and then?
Value proposition canvas
On the flip side, this is all about the here and now. It's great for quick change or pivot (for example, the first lockdown!) and doing a speedy check in to see if there's anything obvious you're missing.

Value proposition canvas planning asks; what can you do today, without any further training or experience, that will meet the needs of your clients? It' s intended to be used as a canvas, so draw it out on a sheet of paper and scribble away!

Some questions that you may want to include are:
What experience do you have that you can leverage into products or services?
What training or qualifications do you have that you can leverage into products or services?
What can you offer without any further training or qualifications?
When considering your ideal client, you should also think about:
What do they need? Why?
What challenges do they have in finding solutions for their needs?
Are there any obstacles to their success?
Would would solve their problems? How? Why?
Let the ideas flow, no idea is a bad idea. You'll find what you're looking for in there somewhere!
Gap analysis
I see this method as a good middle ground. It enables you to evolve your business strategically, but in line with what you're already doing. It may trigger some broader changes, but not always!

Here you will start building out what already exists by observing what' s happening in your business right now. Here are some things you can do to pull together useful information;
Send a feedback form to recent clients/customers. Ask them if there was anything additional they had to do to make full use of your product or service, and if there was anything you could have done to make it more valuable.
Look back through your recent projects and see what you keep having to put in place, in addition to the norm, to deliver on expectations (yours or theirs).
Are there specific topics or part of the product that clients ask about/want to revisit?
Step 5: Operations Planning
This is the part where I really get my geek on – what operations are you going to build so that you can sustainably develop your business?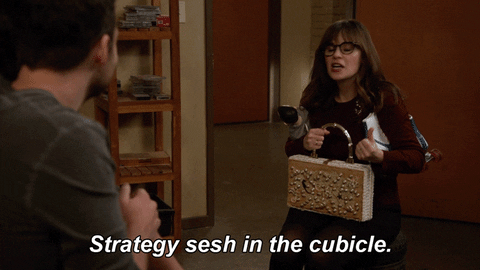 When we talk about operation planning, the main areas to unravel are:
What processes do you need to map?
Which tech will you use?
Where will your facilities be located (and at what cost)?
As we start to think about these three fundamental areas, we must also consider any changes that may require new processes in the future, as well as growth that could cause your tech needs to scale. You should research any costs and have a very clear understanding of the ROI. Alternatively, you could look at a cost benefit analysis.
Step 6: People planning and strategic hiring
Far too often, I see business owners that automatically think they need a certain type of role to fulfil their needs, only to quickly realise that the role doesn't quite tick all of their boxes.

This is a topic I chatted about in great detail with Alice Benham on my Innovate. Thrive. Other. podcast. Because the truth is, there is no textbook answer when it comes to people planning and strategic hiring. It's an incredibly personal decision for your business, and it requires a lot of work before even considering putting an ad out into the word.

Start off by pulling together a skills list – break this list up into three categories:
Business management
Business development
Client management
Next, outline the skills that need to sit with you; the things that you cannot hand over to anyone else. Make a role profile for that.

Now, go back to the list – what of these skills can be handed to someone else? What would that role look like?

Once you've created these profiles, it's time to think about HOW you want to build your team. There are different options to consider, including:
Employees
Contractors
Freelancers
Outsourced
Whatever you choose, be aware and mindful of IR35 and don't wait until it's too late – if you don't plan ahead, you may well be at risk of hiring the wrong role or even the wrong person.
Step 7: Create a financial plan
And then we come to the part that many people run and hide from – your financial planning!

Financial forecasting is SO much more than daydreaming about your first 10k month. The reality of financial forecasting isn't as black and white, so be sure to note fixed costs and overheads, variable costs, projected income and projected profit.

Your financial plan should take you through a series of steps:
What is your operating expenditure (include your fixed costs, desired salary, future growth expenses and contingency).
How many hours do you want to work a month?
How will you plan your services / product creation and shipping into the time you have available?
How much holiday will you allow yourself?
What opportunities do you have to scale?
In the meantime, you should also look at different pricing models and work out which one best suits you and your business. Some of the most popular pricing models are:
Competition oriented pricing
I use a pricing method that is a combination approach, called Innovate + Thrive Co. Service Pricing Strategy. It's a system that I take all of my clients through, and you can access a condensed version of it through my pricing calculator.
Step 8: Create a strategic marketing plan
I really cannot stress this enough… Do not just focus on one channel for your marketing!

When you build a business in the social media echo chamber, you instantly (albeit accidentally) build a high risk business. People are building high turnover businesses in a volatile and unpredictable space. If it's all you have, you're at risk of losing a huge portion – if not all – of your income overnight. Perhaps equally worrying, you are limiting your growth; the opposite of what a savvy business owner should be doing!
Social media teeters on the edge of a totally artificial economy, with 'Instagram businesses' buying from each other, and moving money around a confined space which is only as sturdy as the weakest element. If you're old enough to remember the financial crash of 2008, you'll recall how easily the world economy unravelled triggered by the failing of one company, and one sales practice.

Perhaps a topic for another blog post, but something to be aware of now, is that multi-level marketing schemes (also known as networking marketing and pyramid schemes) have pushed their foot through the digital door, dressed up as female empowerment. This has been especially prevalent this year, when many are lacking motivation and inspiration during what has been an unbelievably challenging period. When you bring into the mix redundancies, rising financial burdens and isolation, the female-to-female business opportunities on Instagram can feel like an unmissable opportunity. Except that isn't the case. In fact, Robert Fitzpatrick (the founder of the website Pyramid Scheme Alert) suggests that "Less than 1% of people under MLM contract, per year, are profitable."

Social media platforms can be a powerful tool when used in the context of a multi-channel strategy, and mindfully. So I'm absolutely not saying that we need to ditch them. I certainly won't be! Just that we need to have a strategy behind them, and exercise caution when something seems 'too good to be true'.
Now is the time to expand your reach and look beyond one semi-reliable channel to a plethora of exciting pathways. This is a topic I nattered about in GREAT detail with the brilliant Jade Rose, a financial advisor for creatives. You can listen to the episode here.
Step 9: Set your business Goals
Oooh… We're getting close to the end of your plan now.

Your next step is to look at the year ahead and set SMART goals that both keep you on track and encourage you to strive for more (while enjoying the journey!). Goals are great because they help you clarify your ideas, focus your efforts, use your time and resources productively, and increase your chances of achieving what you want. We tend to break this down into outcome, behaviour and personal goals. For example, you might initially say something like this:
Outcome i.e. I will increase my turnover to £120,000
Behaviour i.e. I will have established myself as an authority and go-to expert in my field
Personal i.e. I'll be taking the months of August and December out of the business so that I can travel with my friends/family
You would then switch those goals into their SMART counterparts (specific, measurable, achievable, realistic, time-bound), a milestone and an action. So, a SMART goal could be:
Deliver and annual turnover over £120,000 with.a 50% profit margin by 31st March 2022
A corresponding milestone could look like:
Increase pricing in November 2021
And your actions may be:
Review each service, sales numbers and profitabilityRefine services based on findings and client feedback
Review and refine annual financial planningIncrease pricing to ensure financial plan, client needs and business needs are met
Communicate to existing clients
Update website and services guide

Run this process across all of your goals and you will come out with an easy to implement, action and outcome focused plan.
Step 10: Analyse your Business Plan
Annnnnd.. Breathe! It's time to sit back, pour a brew and analyse your business plan as a whole.
First of all, make sure you've covered off each of the following areas:
Business summary: include a description of your business, services and/or products, the finer details of roles you will outsource or resource, any business premises and whether you will work full or part-time.
Market research: Explore any of the opportunities you've identified and your epic idea for a product or service, backed by your competitor pricing structures, gaps in the market and trends you've observed and any lessons learned from your previous reporting period.
Your drivers: what are your values, vision and mission?
Products and services: Here you should go into the detail on each individual product or service. This is the time to calculate cost, retail price and profit margin.
Operations: What processes do you need to map, which systems will you use and where will your facilities be located (and at what cost)?
People: Your strategic business plan will likely have gaps that need to be filled in terms of delivery. Consider who you will bring onboard to support this, and whether they will be employed or outsourced. You'll need role descriptions and possibly performance management guidelines.
Financial forecasting: This is SO much more than daydreaming about your first 10k month. The reality of financial forecasting isn't as black and white, so be sure to note fixed costs and overheads, variable costs, projected income and projected profit.
Marketing plan: I cannot stress this enough… Do not just focus on one channel for your marketing! Where are your clients showing up (both on and offline)? That's where you need to be.
Goals: Look at the year ahead and set SMART goals that both keep you on track and encourage you to strive for more (while enjoying the journey!).
Now you can analyse your plan. I find a SWOT analysis is the easiest and most effective way to do this. It will give you an objective view of your plans from an internal and external perspective, allowing you to identify any further opportunities.
Download my Business Strategy Checklist
My business strategy checklist will help you create a clear and cohesive plan across the 4 key areas of your business: Behaviours, Operations, People and Strategy. Or as I like to call it, BOPS.